How many times have you been disrupted by a last-minute project?
If you're like most in-house marketers, probably more times than you can count. Someone from another department has something they want done, and they don't give you enough time.
Their poor planning becomes your late night at the office, and no one goes home happy.
There has to be a better way, right?
The key is to stop last-minute emergencies before they start with an effective marketing workflow management process.
By developing a clear list of marketing services your team can provide, along with detailed timelines, you can set ground rules for how others request your team's time.
In this course, we're going to make this dream a reality with the following five lessons!
Why is this important?
Implemented successfully, this process will help you:
Eliminate last-minute headaches. Stop letting other people's lack of foresight derail your own team's priorities.
Enable your team to work more efficiently. When team members know exactly what they'll do each day, they can prepare more effectively. That leads to more work getting done on time with less stress.
Let you go home on time. Your family (or Netflix queue) misses you.
In this course, you will build this critical skill set that will help you prevent last-minute emergencies for yourself, and just as importantly, your team.
By doing so, you'll become happier, less stressed, more productive, and a marketing hero to your team.
Your Instructor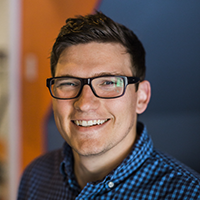 Jordan is CoSchedule's content marketing strategist. His content chops run deep, from copywriting to hosting the "Actionable Marketing Podcast." To date, he's ghostwritten 18 business books, is a frequent speaker at conferences and retreats, and loves a good dad joke.
Frequently Asked Questions
When does the course start and finish?
This course is a completely self-paced online course - you decide when you start and when you finish.
How long do I have access to the course?
After enrolling, you have unlimited access for 1 full year. Want lifetime access? Contact your CoSchedule CSM for details.
Ready to up your A game?
Invest in yourself with Academy Pro
Or talk to an expert and discover how CoSchedule + Academy Pro can give your marketing team an edge.